The other day, Flurry announced new research that solidified the dominant position apps have taken just 6 years into the mobile revolution.
According to the findings, Android and iOS users spend 32% of their app time playing games, 17% in Facebook, and 14% in a browser. That's a whopping 86% of the average US mobile consumer's time, or 2 hrs and 19 minutes per day!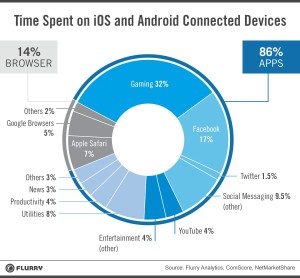 If you're like most of us who are always connected, these statistics probably won't surprise you. However, if you're a social media marketer and you haven't adapted the way you're targeting, promoting and sharing content with the app-dominant audience you seek, you don't want to delay a second longer. Your mobile audience is disappearing into the app abyss!
Fear not. You can still reach them, but you have to change the method by which you connect to them. Specifically, you need more intelligent links.
Adaptive Links Reach the 86% + The Remaining 14%
An adaptive or "app-seeking" link knows the difference between an app and a browser. These are deep links that understand mobile devices and all their silly quirks.
Unlike the links you use today, adaptive links won't ram mobile users into a frustrating app login wall when they are clearly already logged – and using – said app.
Flurry has armed you with the data to show where your audience is hiding. Now all you need is a deep-linking strategy that eliminates the friction your mobile fans face as they switch between apps, the web, email and other channels.
Go forth and find your mobile audience – give urlgeni.us a try today!