Mobile consumers today are spending 88% of their mobile time in apps – and still find it necessary to download another eight apps every single month. If this is true, new strategies and technologies are clearly needed for marketers to successfully engage today's app-addicted mobile consumer.
One of the smartest ways to boost mobile engagement is by app deeplinking – a process of routing mobile consumers from their mobile inbox (or browser) directly into pages in the apps they use most. All too often, mobile consumers click links that lack this capability, producing a poor mobile user experience and lost opportunities for content providers, including retailers and publishers, to engage mobile audiences.
Deeplinking technology platforms like URLgenius are used by top brands to solve this problem. These solutions provide an IT-free method of optimizing mobile consumer engagement in mobile apps and web, across multiple platforms and devices.
The familiar story goes like this: a consumer is browsing their email, social media, online newspaper, or e-commerce site on their phone. They see a link that looks interesting and decide to click. Rather than get directed to the expected app installed on their phone (be it Facebook, Amazon, or the New York Times), the consumer is directed to a mobile website that seems oblivious to the fact the app is on the device. Adding insult to injury, they are presented with an awkward login or download button that disrupts engagement.
The optimal experience starts by understanding that users download apps for a reason. The burden is on brands to integrate those apps into their consumer experience and clickstream seamlessly. This requires solving new, complex issues, such as:
Rules for handling multiple device types
Mobile OS fragmentation and support levels
Methods of detecting apps on each device and OS
Highly variable (and evolving) app deeplink support levels
Compatibility across Safari, Chrome, and embedded app browsers
As a result, technological solutions are becoming essential to adapt the consumer experience for all device users – desktop, smartphone, and tablets. Good app deeplink solutions provide programmatic methods for logically, and gracefully, directing consumers to the most appropriate content type for their specific device. We often refer to this form of conditional routing as "adaptive linking."
Adaptive Linking
Cloud technologies like URLgenius achieve adaptive linking using a combination of real-time sensors and routers to segment the clickstream by category (such as devices with the required app-support, or devices that have the target app installed). In much the same way responsive design enables mobile devices to adapt the layout of a given web page for the device, URLgenius enables mobile devices to adapt the media-type (web or app) based on whether the app is installed.
When the targeted app is detected, the app is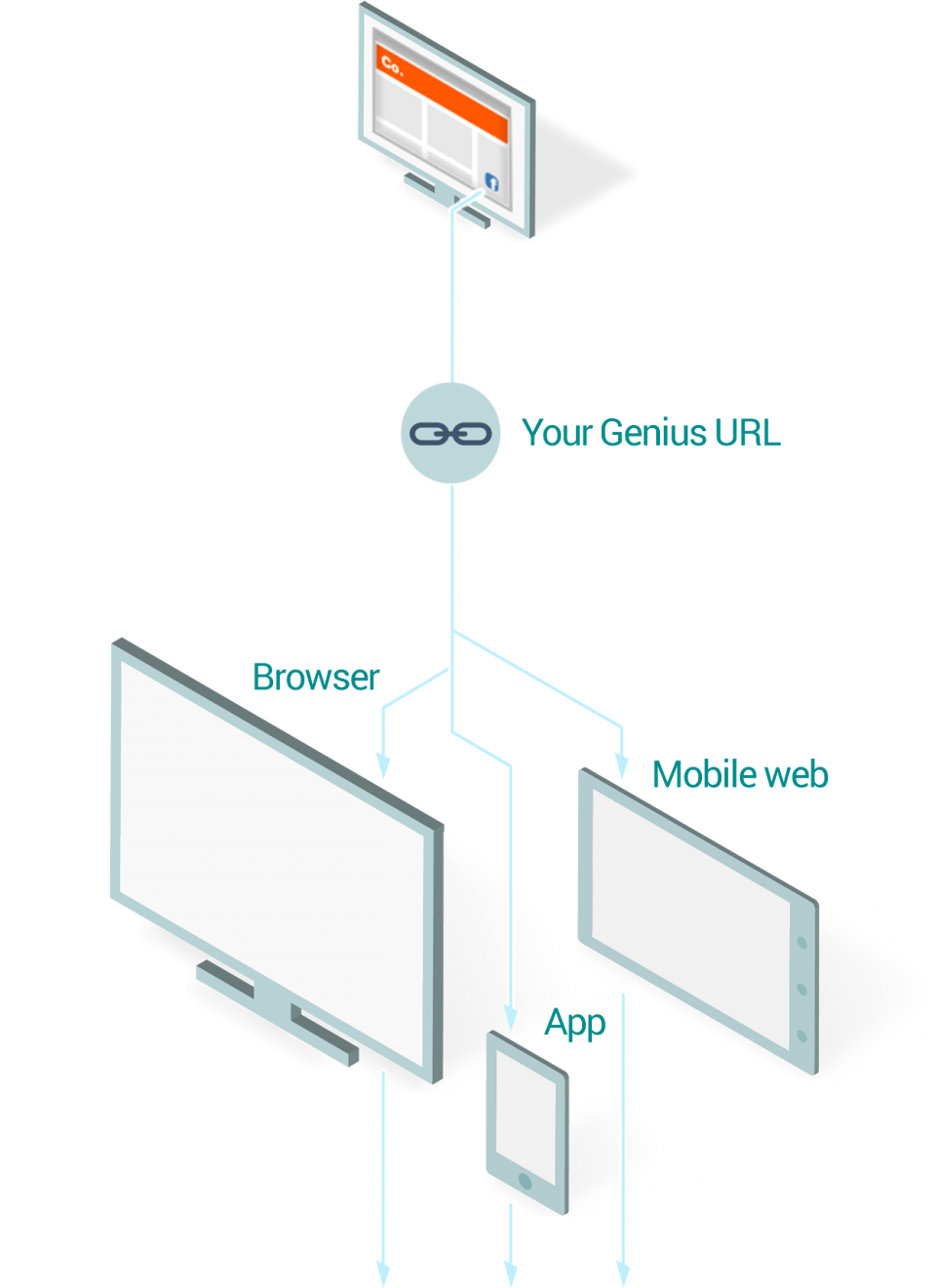 opened to the corresponding app page URL. When the app is not detected, the user is directed to the specified fallback web page URL (or app store URL to download the app).
Since each mobile browser supports different techniques for linking mobile users into apps, the deeplink logic needs to be optimized for Safari, Android, Chrome for iOS, as well as embedded app browsers, such as Facebook, Twitter, etc.
In this way, technologies like URLgenius enable a seamless user experience across devices and media types. The result: smartphone and tablet consumers can be taken into an app, an app download link, or mobile web site, depending on their device configuration, while desktop users who click are directed to the appropriate desktop web destination.
You can start using our deep linking platform URLgenius today to instantly adapt your mobile experience for app-users and maximize mobile engagement! If you have you have questions or just need basic information about mobile deep linking and how to get started contact us.
Don't miss another mobile moment!