The augmented reality (AR) features in Instagram and Snapchat are giving marketers and agencies the creative license to engage with consumers in amazing new ways. Emarketer is forecasting that growth in the number of individuals who engage with AR once a month or more will reach 85 million people in 2021. If you are allocating resources for AR filters or lenses as part of your brand engagement strategy in 2020 don't forget to budget for promotion and that includes app deep linking. App deep links are different from regular links in that they are designed to open the app (Instagram, Snapchat, a brand app) to a specific screen while falling back to a website or the app store if the app is not installed.

App deep linking is the secret to AR filter and lens promotion
There are hundreds of thousands of lenses and filters for Instagram and Snapchat as well as other apps. Some brands are even putting AR effects in their own apps. If you leave it to consumers to hear about and then search for your AR project, you may be disappointed in your engagement metrics. The secret to successful promotion is placing an app deep link that opens the app directly to your AR filter or lens from different marketing channels.
App deep links take your visitors from websites, social ads, search ads or even QR codes directly to your lens or filter while removing any "friction" when moving the user from a browser or from another app into your AR experience. Friction can be an unnecessary landing page or a website login screen. An app deep linking platform designed for marketers and agencies will lets you create an app deep link for your AR campaign and will often let you test it from any channel at no cost including social advertising, email, search marketing or any channel.
Regular links will typically not open directly to your AR experience
It is a best practice to use a deep link when promoting your filter or lens instead of the standard web URL for a few reasons. First, an app deep link will get your visitor into your AR experience more efficiently so you don't lose any engagement due friction between browsers and apps.
Consider this example for the Michael Bublé holiday Instagram filter. This is the regular URL for the filter which you can expose and find when you share the link:
www.instagram.com/a/r/?effect_id=551257808784585&ch=ZDc3N2U0ZDk4YjgyNTE0OGFiYTU4OTZjNTBlZjM3ZTU=
Depending on the context in which you click the link, you could see different behavior but typically your visitor will be brought to an interim landing page where they need to click again to open the filter or AR experience. Staying with this example here's what those screens look like: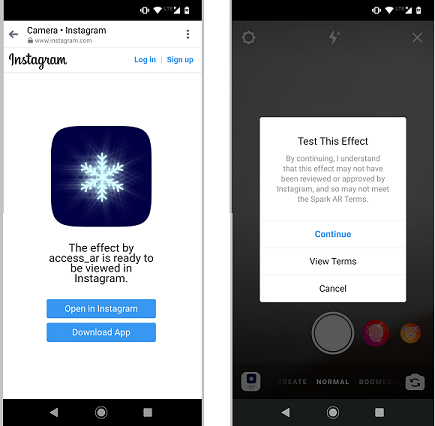 The second reason AR deep links are important is that regular AR links do not give marketers or agencies any control over where to send users that don't have the app installed. An app deep link gives marketers more control over the entire brand experience whether the app in question (Instagram, Snapchat or the brand app) is installed or not.
How to Create App Deep Links to Instagram Filters
To create an app deep link to your Instagram filter (or Snapchat lens), use a deep linking platform designed for marketers and agencies that lets you test the link at no charge. Just paste the regular link into the platform. Note you can typically customize the end of the link: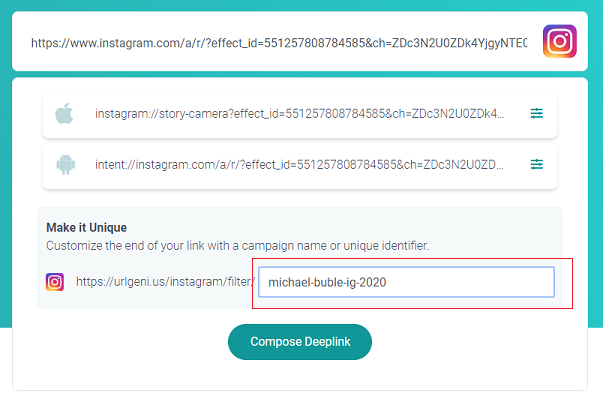 An AR deep link looks like a web URL except that it has the capability to open the app. Staying with our example, here is a deep link that opens the Instagram app directly to the Michael Bublé filter:
urlgeni.us/instagram/michael-buble-2020/filter
To change the fall back destination for when the app is not installed, look in the settings for the deep link. You should be able to change this at any time even while the link is in production or part of an active campaign. In this example, we have set the fall back URL to go to the official Michael
Bublé website:

You can use the app deep link to your AR experience in any marketing channel including QR codes. In the settings for the link there will be a QR code that you can download for use in offline marketing efforts. Here's an example: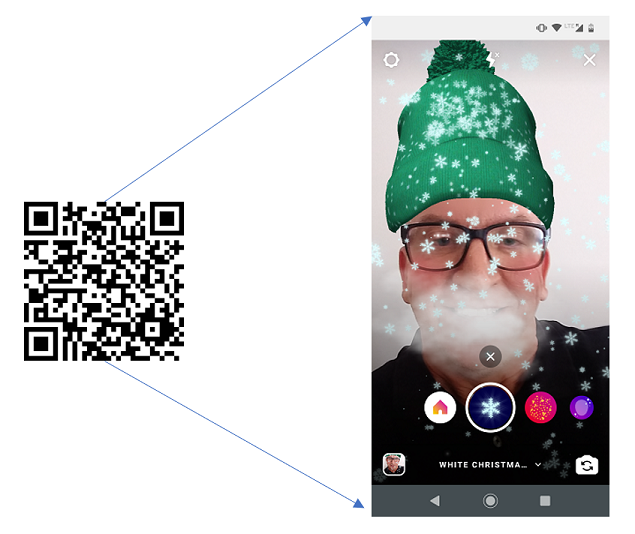 Setting Up an Ad to Your Instagram Filter or Snapchat Lens
When setting up an ad that opens directly to your filter or lens, use a deep link for the most efficient user experience. You simply use the deep link in place of the regular link. Some ad platforms will consider the deep link the destination while others will consider the deep linking platform a redirect.
Pro tip: Some ad platforms require you to use your company's domain for the link in the ad. Make sure your deep linking platform has a branded domain feature that lets you use your own domain when creating your deep links.
When setting up an ad in Facebook Ad Manager, your deep link is entered in the website destination field.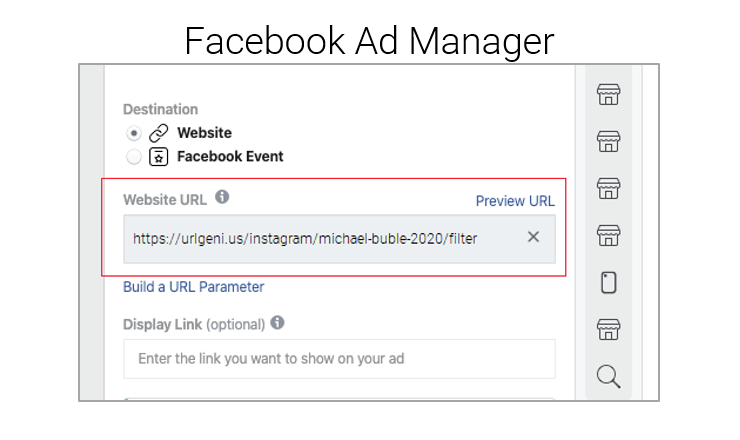 When setting up an ad in Google Adwords, append the deep link with the regular URL for the filter or lens and enter into the final destination field.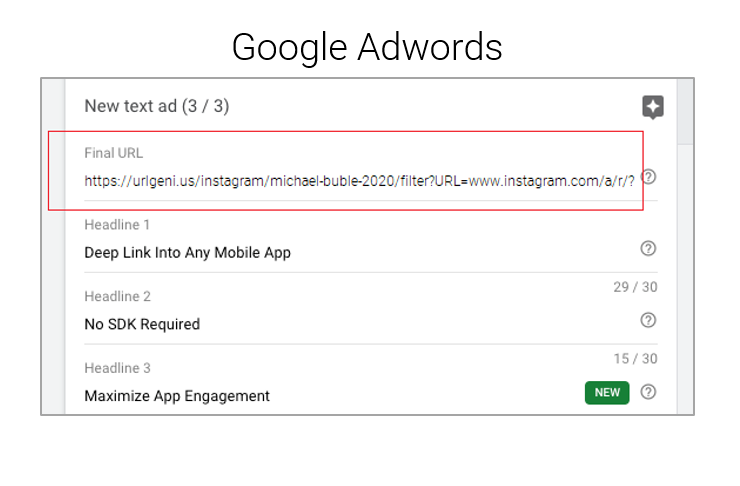 No matter what channel you are using to promote your Instagram filter or Snapchat lens, app deep links will help get your visitor into your AR experience more efficiently and more smoothly. Increasing engagement will increase the chances of your AR efforts going viral.
Just remember to budget for your promotional efforts and include app deep linking when you begin planning your AR project.