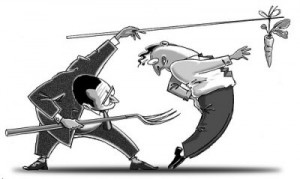 According to today's post on Google's Webmaster Central blog, the search giant is set to roll out algorithm changes that will result in higher rankings for sites that follow Google's Mobile SEO recommendations, and lower rankings for sites that do not comply with these guidelines.
In a word, Mobile SEO is about to get real.
Luckily, your friends here at Pure Oxygen Labs can help. Of course, we've been writing about this topic for quite some time. We've also worked hard to offer a handful of mobile diagnostic tools that freely identify common smartphone website misconfigurations. Specifically…
Mobile Redirect Viewer helps you identify faulty redirects – Google advises you to "redirect smartphone users from a desktop page to its equivalent smartphone-optimized page." If the content doesn't exist in a smartphone-friendly format, Google suggests that showing the desktop content is better than redirecting to an irrelevant page. Seeing your server's redirect transcripts requires new tools. MRV lets you instantly see what the search engines see. It also shows what redirects mobile searchers experience when accessing deep pages using iPhone, Android, Blackberry, iPad or Desktop devices. It's super-fast, powerful and free.
Mobile Site Analyzer and Mobile SEO Page Analyzer help verify compliance with new Google requirements – Google advises you to avoid "irrelevant redirects" and "incorrectly handling Googlebot Mobile user-agents." They suggest testing your site on as many different mobile devices as possible. If you've ever tried that, you know it's just slightly time-consuming. You can significantly shortcut this laborious testing process using our free Mobile SEO Page Analyzer tools to verify your site's compliance with the new requirements — not only for the iPhone user-agent (used by Googlebot-Mobile), but for Android and Blackberry devices as well. View results for a single page in just seconds with Mobile Page Analyzer, or get results for up to 50 site pages in minutes using Mobile Site Analyzer.
Bottom Line: Mobile Search Engine Optimization is No Longer Optional
Until now, Google has been fairly forgiving if you inadvertently send mobile users to your desktop site or your mobile site home page. Now, with mobile users becoming such a significant and fast-growing segment of the Internet population, the search giant is changing the rules.
If you have not yet configured your site to handle mobile and desktop search routing appropriately, your content will soon become increasingly invisible to searchers that trust Google's mobile search results. What are you waiting for? Let Pure Oxygen Labs help you and help your mobile customers find you. Check out these free mobile diagnostics today.