In this day and age, everyone is always on the go, so it can get pretty difficult for businesses to connect with customers. The jet-paced lifestyle of society today is part of what prompted the invention and evolution of the smartphone as we know it (thank goodness)— and who goes anywhere without one in hand these days? Let's be real— virtually no one and that means SMS marketing has grown right alongside smartphone ubiquity.
So it's only logical to combine the reach of SMS marketing with QR codes— another seemingly ubiquitous channel (yes think of QR as an Enterprise channel now!)— it's a match made in marketing heaven! We'll dig into that further in a moment, but first, let's consider the growth and continued market acceptance of SMS advertising.
SMS marketing has quickly grown in popularity because it can reach current and potential customers with targeted, efficient, and effective messaging in real-time. Nevertheless, some marketers don't use the channel at all because it's been around so long and there are a lot of other marketing opportunities that are eating up all that marketing budget— like Facebook, Instagram and Tiktok.
Are you on the fence about SMS marketing? Well, how about this— did you know that 91% of customers say they would opt-in for text messages from brands? Or that 96% of marketers agree that adopting an SMS marketing strategy helped increase brand revenue?
Friend— you can't deny those stats. Text message marketing is here to stay.
Why You Should Adopt a Dynamic QR Code Strategy for Your SMS Marketing Campaign
Let's take this SMS text marketing strategy a step further— is there a way to increase the number of consumers who opt-in to your SMS text blasts? Absolutely. How? Oh, it's a very simple answer, friends. Dynamic custom SMS QR codes.
At URLgenius, we offer you a simple, yet innovative SMS marketing campaign solution via our dynamic QR code platform in which you can generate an SMS or messenger QR code. When scanned, your custom QR code will open your customer's SMS app with a pre-populated message. On top of that, you as the marketer have full control over the message— that's what makes them dynamic— you can change the message at any time— neat, right?
Wondering where you can place these QR codes for text messaging? Well, anywhere you're advertising your brand— via direct mail, posters, retail displays, trade show booths, etc. This type of SMS marketing assists current and potential customers in to engage at any mobile moment throughout the day to:
Obtain information about products and services
Redeem special offers, incentives, and discounts
Sign up for emails, newsletters, and special announcements
Request a meeting with a sales representative or demo
Think about incentives or saving your customer time!
When developing your strategy, beware of free QR code generators that are not dynamic, can't open apps, and don't meet enterprise-grade software standards. You don't want a QR code fail to reflect poorly on your brand. You may also find later what you thought was a deal was a sneaky QR code solution installing tracking software to collect your customer information. Always use an enterprise-grade, privacy-focused QR and app linking platform like URLgenius when creating QR experiences.
Whether it's helping your audience accomplish a task or redeem a special offer, your dynamic SMS QR code strategy is only limited by your marketing team's imagination! So how do you go about creating a dynamic SMS QR code? Guess what— you can start right this very minute as we show you step-by-step.
Best of all, you don't need complex technical software or any SDKs.
How To Generate a Custom QR Code for Your Text Message Marketing Strategy
URLgenius offers agencies and marketers the ability to create and customize SMS QR codes (including SMS deep links) that open your visitor's SMS app on their iOS or Android mobile device with a pre-populated message.
Sure, they seem like regular QR codes, but they contain unique intelligence embedded in them that can access the appropriate SMS app whether it's an iOS or Android device doing the scanning. The secret to it is a patented process to embed SMS app deep links or text message deep links which act as your QR link.
In this case, let's suppose our offer instructs the buyer to text the term 'Hello! I'm requesting my 20% discount.' to a specific phone number or short code in order to receive information on current deals and promotions. To create your QR campaign link, simply put a text string into the URLgenius homepage in the following format which includes the phone number:

send.sms/your-phone-number/message
You can also use a short code format:
short.sms/code/word
Important: You cannot have special characters or spaces in the message part of the string. Make sure you encode your message. If you're not familiar with encoding, just use an online encoding tool. For example, instead of a space use '%20'. Contact us if you need help encoding your message.
Note that the number of characters that you enter will affect the density of your QR code so keep the end of your link short. You can always change your pre-populated message later in the settings.
Pro Tip: You can use your brand's domain for your SMS QR code. This should be easy to set up from the settings of your QR provider. URLgenius lets you do this in minutes!
When you enter the string of information for your dynamic SMS deep link, look for the mobile phone icon in the top right corner, which indicates that URLgenius recognizes the type of link you're generating (if you don't see it, something is wrong!). Note— there's also a section where you can personalize your QR link URL after the backslash. As we continue on with our example, we have changed the end of the link to 'discounts' to correspond with our campaign.
When you click on "Compose," you'll be directed to the SMS text messaging deep link settings page. This is the section where you can test your QR code link and see and test the QR code in action.
The routing tab lets you edit your SMS message and note that the 'Default URL' is your desktop destination in case someone shares the link behind the QR code and a desktop computer clicks it. Remember, URLgenius QR codes are dynamic! You can update your message on the Routing tab at any moment, even after the QR is printed. Just remember to update the message for each mobile device type.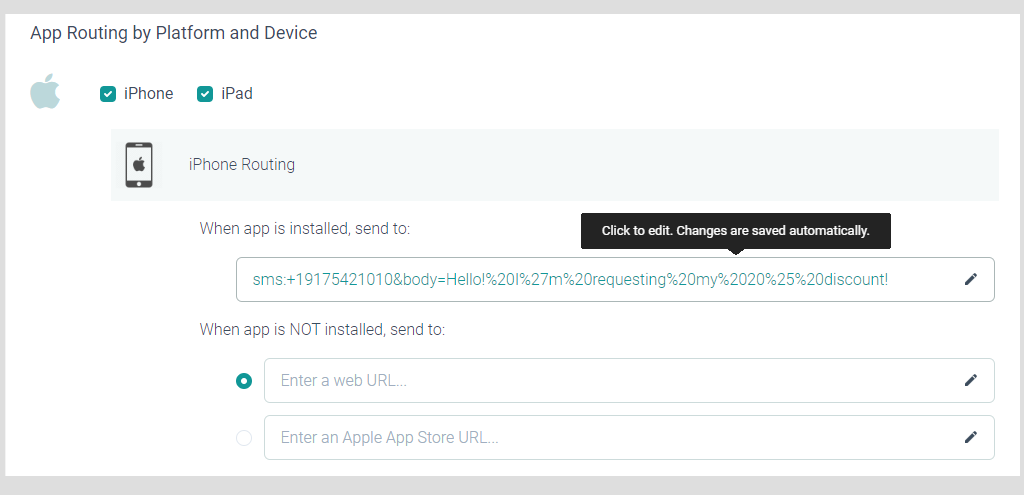 Pro tip about multi-language destinations: URLgenius supports multi-language QR codes. Traffic is routed based on the user's language-geo. Contact us if you need help setting up a multi-language dynamic SMS QR code.
Now click 'QR Settings' to download your QR code. You can upload your brand's logo or change the colors of the QR code. Just beware that changing the design of the QR code can affect the ability to scan. Contact us with questions and avoid a QR code fail!
QR codes for SMS are pretty easy to generate, but it's easy to get something wrong and make the code unscannable. Whether you're using the code for television, print, email, packaging, or retail displays; all QR codes need to be optimized for design, size, density, channel, and placement.
Make sure to check out our QR Code Strategy Guide and QR Experience Playbook to learn more about the common mistakes and what to consider in relation to apps, websites, and QR analytics.
Your SMS Text QR Code Analytics
You can log in to your URLgenius dashboard at any time to understand how often your QR code is being scanned. URLgenius will track scans separately from clicks. This is helpful when both the QR code and the link are in a multi-channel campaign.
Tracking scans from SMS QR codes is a great way to enhance your first-party data over time as you increase your understanding of how your customers and prospects like to engage with your brand in the SMS channel.
The following chart shows the number of SMS app opens by platform and device. The app open rate tells you what percentage of people who scanned had an SMS app installed for iOS and Android.
This chart shows scans by city and separately by language preference. These insights are anonymous and help you confirm the focus of your campaign geographically and by language.
Check your spending during the month at any time by clicking 'Settings'. There is a one-hour delay in reporting.
You can generate singular dynamic SMS QR codes or create thousands and personalize them in bulk using the URLgenius API. And if you need help or guidance just let us know. Sign up to get started.
If you found this content helpful, check out some of our latest how-to posts for QR code app marketing: