The recent pandemic showed no mercy to any company around the world, did it? (Well, maybe Amazon— but that's a different story.)
In light of the pandemic's negative impact on employment, economic activity, and trade— causing a dramatic decline for some— many companies have turned toward new technologies. One of these technology investments is the QR code.
Insurance and finance companies are no exception and have a unique opportunity to reach more customers, streamline processes and transactions, and increase consumer engagement and of course revenue by creating new QR experiences that inspire consumers to engage wherever and whenever they have a free mobile moment.
So, why should your financial or insurance business utilize QR codes?
So, why should your financial or insurance business utilize QR codes?
Convenient for convenient for customers
QR codes are one of the best tech tools that insurance and finance organizations can use to differentiate themselves from their respective competitors.
QR codes are one of the best tech tools that insurance and finance organizations can use to differentiate themselves from their respective competitors.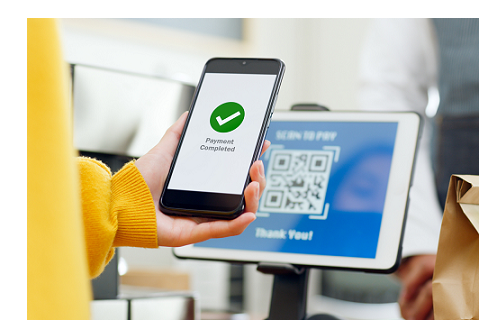 No longer just a shortcut, the QR code has become an innovative— even necessary— tool for customer convenience that helps finance and insurance companies streamline operations via mobile apps by optimizing access to a wide range of tasks which will ultimately increase efficiency and sales.
As with any service, consumers are demanding a seamless and convenient experience as they flock to use apps. Used wisely, QR codes that open apps can help create a stronger bond with your brand as you save your customers time by presenting a QR code at the right mobile moment to make it easier to accomplish a task or find the feature or service they need.
QR codes are a great way for customers to find and browse your website or to open or install your app as they check balances, review policies, pay bills, or discover new products and services.
QR codes generate leads with strong intent
We all know that a major part of expanding a business is in generating as many leads as possible. Think of the QR code as your best lead generator because when a prospect or customer takes time to scan, that's a signal that they have high intent to purchase.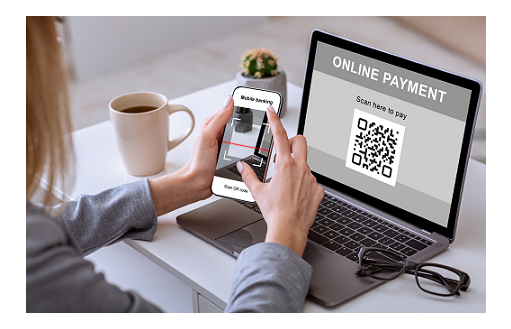 Framing QR codes as a lead generation tool offer an infinite number of ways for consumers to engage. Marketers are using them to open apps or websites (a smart QR code can do both) from direct mail, social media, email, and even television. As you make the QR code a key part of your brand engagement strategy, you'll start to see trends emerge around key activities and lead generation.
Pro Tip: Did you know that when you create QR codes for your brand's app or website you can personalize them or— in other words— create a unique code for each customer? And if your campaign has thousands of contacts, no problem! URLgenius offers an API that you can use to create QR codes in bulk programmatically. In fact, we can even create them for you and send them directly to your printer. Contact us for more information.
Remember, your QR code platforms like URLgenius can track scans and clicks separately, so QR campaign results can be used by your sales team to identify your hottest leads for outreach and remarketing. Plus, because the QR is so adaptable, you can use one in any online or offline marketing activity in any marketing channel. You'll broaden your client reach by finding new consumers on their terms!
QR codes boost brand retention and cut search marketing costs
When customers need finance or insurance products what's the first thing that comes to mind on how to find them? Google search right?
Instead of having to do an online search where your customer might find your competitor, wouldn't it be great to present them with a QR code at just the right moment? Not only will you be increasing brand loyalty by keeping customers in your app or on your website, but you may also even cut down on your search marketing costs.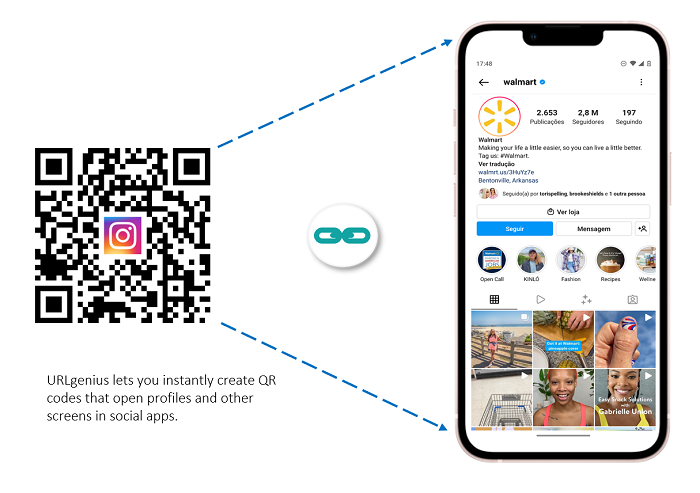 How to Create QR Codes to Any Insurance or Finance Apps
Customers want to feel more connected to your brand. Use QR codes to provide an immediate way for your customers to take action and get things done and predict what information they will see after scanning the QR code.
QR codes strengthen your brand retention because scanning will increase awareness of your products, services, and marketing campaigns.
How generate a QR code for finance and insurance
Although all this QR code business might sound like a hassle to a person who doesn't know the ins and outs of making one, we've made it easy to get started. At URLgenius, our QR code generator takes the guesswork out of the equation— all in a few simple steps.
1. Sign up for URLgenius
(This really shouldn't count as a step, should it?)
2. Enter the target URL into the box on the URLgenius home page
To create a QR code, paste the destination link for your code in the box on the URLgenius homepage. URLgenius will help you create an updated link which is actually the link your visitor will see when they scan your QR. Ultimately you can set your QR link to use your brand's domain (which we recommend). In our example, we'll create a QR code to the mobile app for Bank of America:
Notice that you are given an option to customize the end of your QR code URL in order to align it with your campaign. This will also help you find the link and QR code in the URLgenius dashboard.
After that, simply select "Compose" and you'll be taken to the settings page for your app deep link and QR code.
3. Click "QR Settings" to customize and download your custom QR code
From the app deep link settings page, when you click the "QR Settings" button, you will be taken to the page that allows you to download the code. You can also change the color or update the logo.
Before downloading the code, make sure it is set to the right density—this will ultimately affect your visitor's ability to scan the code. Contact us if you need settings guidance regarding the density, size, color, logo, and placement of your QR code. Check out our QR Experience Playbook and Strategy Guide for more tips and common mistakes to avoid.
QR codes are easy to create but they are even easier to get wrong. To avoid a QR code fail make sure to contact us at URLgenius. We can offer advice on from various use cases, to size, density, and even scanning distance.
Keeping track of your QR code analytics
URLgenius will track scans separately from clicks, which is helpful especially when you're using the QR code and the link in a multi-channel campaign. Tracking scans is a great way to enhance your first-party data over time as you increase your understanding of how your customers and prospects like to engage with your products and services.
The following chart shows the number of Facebook app opens by platform and device. The app open rate tells you what percentage of people who scanned your QR code had your brand's app installed for iOS and Android.
This chart shows scans by city and separately by language preference. These insights are anonymous and help you confirm the focus of your campaign geographically and by language.
Check your spending during the month at any time by clicking 'Settings'. Just keep in mind there is a one-hour delay in reporting.
Different ways to use QR codes for finance and insurance
So now that we've gone over why you need them and how to make them, let's get into the crafty ways in which QR codes can be used for finance and insurance companies. This list is by no means definitive, but will help you get started!

Allow customers to make a payment through a QR code
By including a QR code on your electronic billing statements, you can make the premium payment process faster and more convenient for your consumers. In this way, you'll be providing your clients with a simple way to self-service and make electronic payments.
Your customers can move straight to an online payment flow without having to provide a password or log-in information.

Increase your app engagement and downloads with a QR code
Finance and insurance companies are on the forefront of mobile apps that are transforming the way such services are delivered and managed. A simple way to boost your app downloads is to place a QR code throughout your various marketing channels that will 1) open your app to the home page if it's already installed and 2) go to the right app store if it's not installed.
And yes! You can accomplish all of that with one URLgenius QR code! The routing intelligence is built-in and you can change the destination at any time. For example, in the future, you may want to open a different screen instead of the home screen. It's up to and your your marketing team!
This method will allow your customers to instantly open or download the app in real-time without having to search for the app on the app stores or be directed to an unnecessary landing page.

Add a QR code to insurance cards
QR codes can be utilized in helping customers to report claims. Insurance companies, for example can place a specific QR code on their customers' insurance cards to make it easier for them to submit claims information.
On the finance insurance card, you can include a dynamic URLgenius QR code that will take users into the right screen in the app where they can submit documents and photographs for claims reporting. Remember, extra landing pages hurt conversion make sure your QR code opens to directly to the right screen.
Consider QR codes that open the settings for the users account or to pay their bill or to new products and services. Try different strategies to see what gets your customer back into your app!

Include a QR code in your direct mail and email marketing campaigns
The great thing about direct mail and email marketing is that it allows insurance and finance organizations to reach out to new customers, while also consistently looping in and sustaining current clients.
It's essential that you make direct mail and email campaigns stand out from the crowd of competitors. You can use QR codes to add a further course of action for your prospects. A QR code in an email? Yes – it's turning into a popular engagement tactic as consumers open emails on desktop computers and scan with their phone which is always handy. Agents can create URLgenius QR code experiences that can integrate your brand's website and mobile app into the same QR, resulting in enhanced engagement across channels.
Printed direct mail and email marketing for events is another popular tactic especially if the event features your app. Your brand's app QR code can function as an event entry pass to invite prospects. You can include the code in your event invitation or ticket confirmation emails so that your prospects or customers can attend the event without any difficulty.

Expand your social media presence
It's common knowledge nowadays that likes, comments, and shares are the bread and butter of a successful social media campaign.
You can use a social media QR code to increase the social media presence of your business or your agents. You can even create a QR code to securely link to your Finance or Insurance app from social apps like Instagram and Facebook.
If your brand has multiple agent profiles, design social media QR codes for each. Prospects will simply scan the code and interact with him/her via the channel they prefer. When scanned, the QR code opens the social media app directly to the agent's profile where they can immediately engage.
The opportunities are infinite! Get started now and create a QR code to your finance or insurance app.