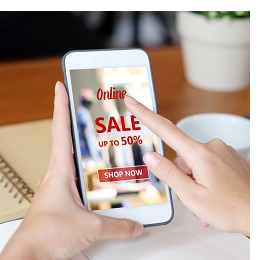 It's that time of year again. Thanksgiving is around the corner and so is the busiest shopping season of the year. The ecommerce headlines are set to scream once again that consumers are choosing to beat the crowds by shopping online rather than in stores. What's different is the industry will reach a new milestone. More people will shop on mobile devices than desktop.
Mobile Moments and Friction Between Apps and Websites
Advertisers are learning that maximizing conversion is about that mobile moment and to grab the most revenue on smartphones and tablets they need to minimize shopping "friction" or roadblocks like website login screens. According to Facebook, friction will cost $213 billion in lost ecommerce opportunities this year. A huge percentage of that lost revenue will occur during the holiday shopping season.

Points of friction that consumers encounter varied but they all lead to shopping cart abandonment. They range from out-of-stock items to payment-related issues or too many clicks on the way to checkout. Facebook found that 87% of those surveyed said a 'complicated' checkout process lead to shopping cart abandonment. Friction can also be seen when moving from a web browser to an app or from one app to another. Opening apps from different marketing channels is challenging for marketers. Apps typically don't open even when they're installed and instead shoppers are presented with web login screens which have become one of the most common points of friction in today's app-centric shopping environment.
Social Advertising and Shopping Friction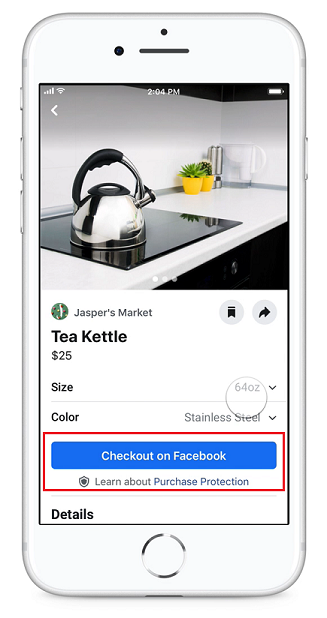 Social advertising also presents tremendous friction for marketers and agencies that want to lead consumers from ads to retail and brand apps. Instead of opening the app when it's installed or to the right app store if not installed, the shopper is sent to the social network's embedded web browser where they need to login to the retailer's website. That is a classic case of friction and it leads to lost revenue.
As a result of lost sales and consumer discontent with friction, Facebook and other social networks are testing new in-app ad formats that allow consumers to complete a purchase without ever leaving the social app. According to Facebook, over a third of its U.S. consumers are using company's marketplace solution. In facebook's view, this type of ad is a logical next step in Facebook's journey to be the "middle man" in the shopping experience. The new in-app ads could be especially appealing for campaigns that promote impulse purchases and to retailers and manufacturers that don't have a mobile app.
How App Deep Linking Solves for Mobile Commerce Friction

Social ads that allow transactions, however, are not for every product or brand. Considered purchases that require more research and have multiple consumer touch points may not convert in such ads. In addition, some retailers may not want to lose control over the customer relationship or the opportunity to cross-sell other products. When completing the transaction in the social app, the retailer also loses out on more in-depth attribution and behavioral data which is collected when the consumer is taken into the retailer's app where they may shop around further. So while Facebook and other social networks are innovating to keep shoppers in their app, other companies are innovating to remove friction when taking shoppers from social apps to brand apps.
In-app social ads, therefore, are not the only option for removing friction from the mobile consumer journey. Marketers and agencies are finding other solutions that move consumers seamlessly from social apps to retails apps. Rent the Runway, for example, uses URLgenius deep links in their Instagram stories to open the Rent The Runway iOS app to specific product pages.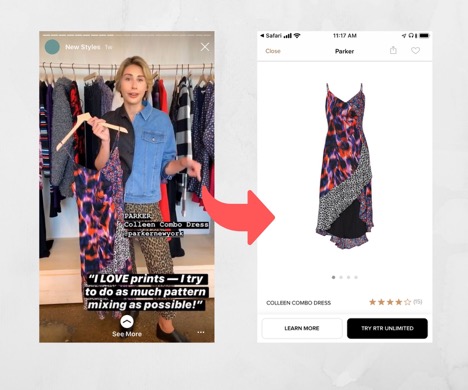 Marketers and agencies like no-tech deep linking solutions like URLgenius because they decrease friction while letting the retailer maintain control of the customer experience and the resulting data. That data often shows that getting consumers back into the retailer's app from social and other channels is important because studies have shown that consumers prefer apps over websites. When marketers have control over app deep linking strategies across channels including social media they have an opportunity to increase revenue dramatically because apps can often convert three times the rate of mobile sites.

In-app transactions from social advertising like Facebook will no doubt become important for many retailers in reducing friction. Perhaps even more importantly, however, marketers and agencies are increasingly becoming experts at how to get their audience back into brand and social apps while minimizing shopping cart abandonment. Opening that mobile app successfully at the right moment to the right screen while avoiding barriers like login screens will lead to happier customers and increased revenue this holiday season.