The Objective
Founded in 2006, ParkWhiz has become one of the leading e-parking services, enabling millions of travelers across the United States to book parking spots near their destination in advance. With thousands of listings in nearly all U.S. metropolitan areas, for nearly any venue or event, including sporting events, musical concerts, daily commute and monthly parking, ParkWhiz aims to make parking stress-free for drivers. In today's mobile-first era, delivering on that mission means making parking via mobile devices stress free as well.
The Challenge
In late 2016, the company saw mobile devices overtaking desktop devices in web traffic with no signs of slowing down. ParkWhiz felt prepared for this shift in consumer behavior by having a mobile-friendly responsive website. The company had also launched iOS and Android apps enabling repeat customers to book more efficiently. Mobile readiness, however also introduced growth challenges. For one, the ParkWhiz conversion rate on mobile web was significantly lower than on desktop. While app conversion rates were on par with desktop, the app was installed by a small percentage of customers.
This difference in conversion rates between mobile web, mobile app and desktop presented ParkWhiz with a mobile optimization challenge: How to grow mobile reach and customer acquisition without sacrificing mobile conversion, revenue, and engagement?
The Solution: Expertise and Technology
ParkWhiz engaged award-winning optimization consultancy Pure Oxygen Labs to lead a multi-pronged mobile optimization initiative. The strategy was to improve the performance of three high-ROI areas: (1) mobile and voice search visibility, (2) mobile page speed, and (3) mobile app installs.
1. Mobile Voice and Search Visibility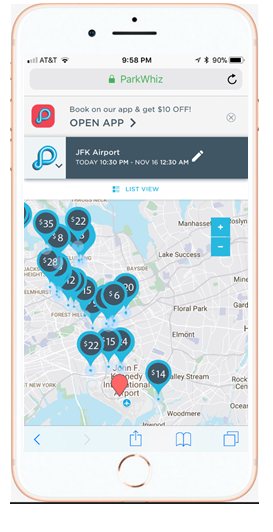 Organic search had historically been a significant acquisition channel for ParkWhiz. The consumer shift to mobile, however, revealed new searcher behavior, some of which would require new strategies to achieve visibility and incremental traffic. Understanding voice-of-customer phrases and searcher behavior became a key starting point for aligning mobile content with searcher intent.
For example, the company saw that for every desktop customer researching parking options for their destination city, nearly twice as many mobile users were searching for parking 'near me' or 'near' their eventual destination, in an immediate, on-the-fly manner. This data suggested travelers were searching for solutions while driving, relying on search engines like Google to figure out where to park. In these mobile moments, qualifiers like 'near me' or 'near [x]' were helping to narrow search listings to those that were immediately actionable. This insight resulted in new content strategies that aligned ParkWhiz's mobile presence with mobile customers searching for these location-based phrases.
2. Mobile Page Speed
Page speed is an increasingly important factor for mobile search rankings, and contributes to overall mobile bounce rates. Studies by Google suggest that pages that load in over 5 seconds on mobile have a 90% higher probability of bounce. As an early adopter of responsive site design, ParkWhiz began to notice a common side-effect: forcing mobile users to download the entire desktop page payload (images, style sheets, scripts, etc.), usually over 3G connection speeds, pushed load times for some key pages to over 10 seconds.
Pure Oxygen Labs identified high ROI, top-performing pages experiencing excessive mobile load times. For these critical page types, the company analyzed all images, scripts, and content using 3G emulation. Optimization techniques were used to compress images, minify code, and adapt some assets to avoid sending non-viewable desktop images to mobile users.
3. Mobile App Installs
Compared to the ParkWhiz mobile site, the mobile apps converted users into orders at much higher rates. The percentage of customers with the ParkWhiz app installed, however, was still relatively small. The company began to promote the app to active mobile web visitors using a smart banner solution that featured custom branding and app install tracking for Android and iOS users. For mobile website visitors who had the app installed, the smart banner enabled easier access to open the app.
The Results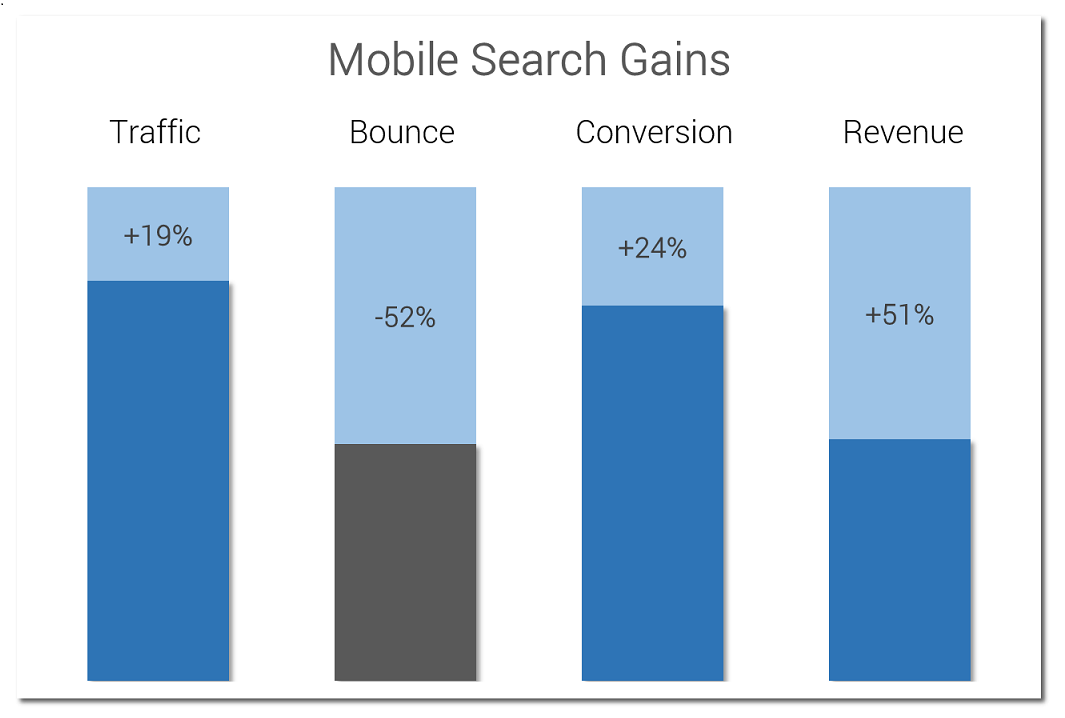 After implementing these mobile techniques, the ParkWhiz team began realizing immediate benefits.
Mobile search traffic increased 19%, with bounce rate down 52%, and mobile search revenue up by over 50% over prior year period. Load speed on critical mobile pages declined by 47%, contributing to a 40% decrease in bounce rate, and 37% higher page value. App installs also increased by some 50% over prior levels, with custom smart banners accounting for 40% of all installs on iOS and Android.
"The insights and technology that Pure Oxygen Labs provided delivered immediate traffic and conversion lift and guided our content strategy in ways that not only increased our brand visibility but delivering an improved mobile experience for customers and prospects."   – Marketing Executive, ParkWhiz