Consumers have an unlimited number of options when it comes to online shopping across thousands of ecommerce sites. It is Amazon, however, that leads the industry as it continues to increase its share-of-wallet across product cateogries. A big part of Amazon's success is the ability for its shoppers to find what they're looking for fast. Studies now show that Amazon is surpassing even Google as the starting point for shoppers when searching for products.
We developed Trending Search Links, a unique link optimization technology designed to help your customers more quickly and easily find your most popular products. Our lightweight code won't slow down your site and our cloud-based architecture means it can be easily applied without the need for any technical resources.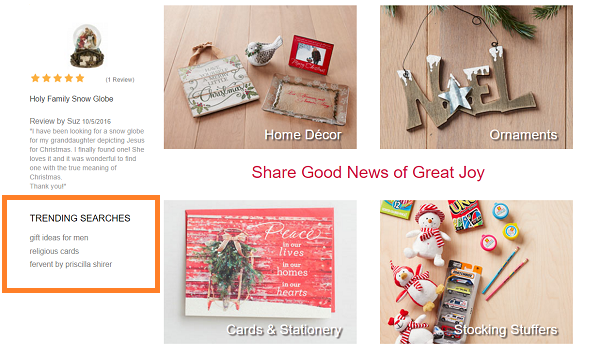 Simply by adding a small snippet of Javascript code to your site, Trending Search Links enable your marketing team to add a series of relevant, trending product links to any page using "voice of customer" phrases and search terms. Search terms can be any combination of onsite searches, paid search phrases and customer curated terms. The links are automatically added to the page while providing curation control and the ability to edit the list of links at any time.
Benefits of Trending Search Links
Easy installation by adding a few lines of code to page templates
Asynchronous design avoids blocking page elements from loading
Curated phrases rendered as clickable links for shoppers and SEO
Algorithms optimize targeting and frequency based on engagement
Analytics integration provides clear visibility into shopper results
Results You Can Expect
Conversion rate increase up to 300% or more
Average order value increase up to 70% or more
Bounce rate decreas up to 50% or more
Session duration increase up to 100% or more
SEO gains seen for up to 25% and more for your relevant keywords and "voice-of-customer" phrases
Contact us with any questions and to setup a test on your site. You'll start seeing measurable results immediately while creating an improved consumer experience for your shoppers.