For retailers and other advertisers, converting website visitors into frequent app shoppers is important because app shoppers are known to engage more and spend more. Mobile website banners can be an effective tool for increasing awareness, engagement and app downloads and yet many advertisers don't use them for technical reasons and the resources required for implementation.
App Download Banner Roadblocks and Requirements
The primary challenge with mobile website banners is the resources needed to build solutions for every browser and device configurations across iOS and Android. Apple Smart Banners for example, only support Safari and cannot be display in other browsers, browser apps or embedded browsers such as those found in Facebook and Twitter. Custom solutions would need to be developed for each of those use cases.
For the Android platform, there is no standard app download banner solution from Google similar to Apple Smart Banners. Any solution for Android would need to be custom developed for each browser and device configuration.
In addition, marketers need the flexibility to quickly enable or disable the banners for iOS or Android at the page level without engaging technical resources. This capability is important when testing campaign and conversion strategies as mobile apps evolve and mature.
URLgenius Smart Banners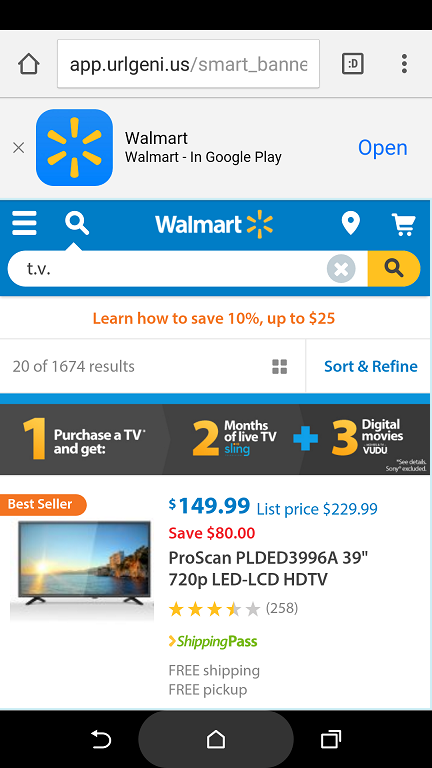 The technology behind app download banners is called deep linking which typically requires development resources and the implementation of Software Development Kits (SDK.).
URLgenius Smart Banners use a cloud-based approach to deep linking to solve these roadblocks without the need for custom development or other costly technical requirements. Features include:
A cloud-based enterprise serving approach which reduces advertiser resource requirements for deep linking
Intelligent device detection and redirection for iOS and Android from the same banner
Support for branded subdomains
All browser and device combinations supported included embedded browsers for Facebook and Twitter
The ability to enable or disable the display of your URLgenius Smart Banner for by platform or device
Easily preview banners by simply scanning a QR code
"The URLgenius Smart Banner implementation was incredibly easy. It didn't require any significant IT resources or platform-specific development for iOS or Android."  – Marketing Manager, IR 500 Retailer
URLgenius Smart Banner Behavior
Your URLgenius Smart Banner will route visitor traffic depending on platform and device and whether your mobile website visitor has your app installed. If the app is installed, the banner will open the app. If the app is not installed, the banner will open the appropriate app entry in the iOS App Store or the Google Play.
Routing to any particular device or platform can be turned on or off at any time. No SDK or development required so there's no code to maintain over time.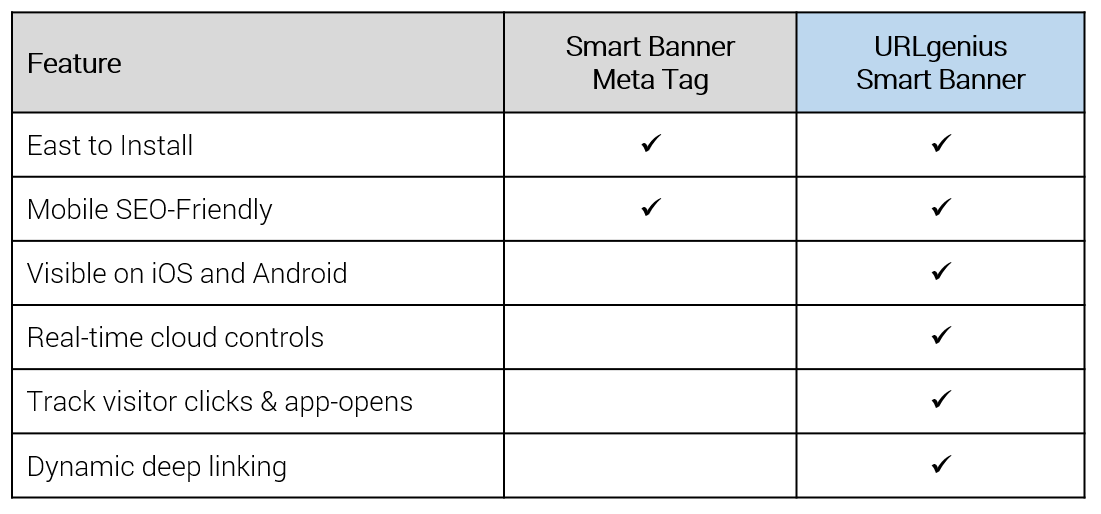 Google Compliant
Retailers and other advertisers with mobile apps who have earned high SEO rankings need to ensure all mobile related banners are fully compliant with Google's latest rules and guidelines. The design and cloud-based approach of URLgenius Smart Banners is fully compliant with Google's latest rules for app download banners and interstitial content.
By placing URLgenius Smart Banners on your mobile web pages you can maintain your current SEO strategies while leveraging all your best ranking pages to drive awareness and downloads for your mobile app.
The Results
URLgenius Smart Banners are already driving strong results for advertisers. Not only are marketers are saving time and technical resources, they are achieving maximum coverage for their app download banners on browsers and devices across iOS and Android. One retailer immediately saw a 300% increase in app downloads in the first two weeks of deployment.
See the URLgenius blog for case studies and other deep linking tips and best practices.
Contact us for more information and to setup a free test with your app.