The Smart App Banner Challenge
A popular retailer wanted to increase downloads of their apps for both iOS and Android in advance of the holiday season. A cross-platform solution was needed and one that would be easy to implement without significant development work.
They considered a common way to promote iOS app downloads which is to use Smart App Banners from Apple which look like simple display banners at the top of a mobile web page. If the app is installed, the banner will open the app. If the app is not installed, the banner will take the user to the app's page in the app store. Here's an example (note: the word "View" will change to "Open" when the app is installed):

Apple's Smart App Banners, however, can only be seen in Safari. They are not visible in other browsers for iOS including Chrome or Firefox or when browsing web content from within mobile apps including Facebook, Twitter or search apps.
In addition, when it comes to Android, there is no equivalent to the Apple Smart App Banner. This is due in part to the fragmentation of the Android ecosystem and to the variety of browsers available on Android. Smart app banner solutions for Android require custom coding by mobile teams who are typically managing a long backlog of projects.
The Solution: URLgenius Cross-Platform App Banners
The retailer solved the Smart App Banner challenge without using costly IT or development resources by implementing Cross-Platform App Banners by URLgenius.
The retailer's app download banners were fully branded and enabled with device detection and intelligent redirection so each user would be sent to the Apple App Store or the Google Play Store to download the app.
This approach enabled the retailer to obtain maximum reach for its app download campaign across iOS and Android while ensuring a consistently branded user experience across platforms.
The retailer also had complete control over where to route customers according to their device
The Execution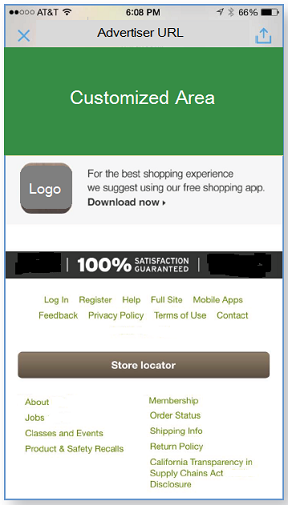 "The implementation was incredibly easy. It didn't require any significant IT resources or any platform-specific development for iOS or Android."
                                           – Marketing Manager, IR 500 Retailer

The retailer created a custom graphic which contained the company's logo and messaging that said "For the best experience we suggest using our free shopping app."
Banner opens the app if it is already installed.
The banner was fully branded to fit the look and feel of the retailer's mobile website including logo.
Placed near the top of the mobile website home page for maximum reach.
Consistent look and feel across iOS and Android while supporting all browsers.
Mobile web page visible and accessible.
Adheres to all Google guidelines for placement of mobile web banners.
The Results
"This was a wildly successful solution. Our URLgenius Cross-Platform App Banner was visible to 100% of our mobile users resulting in a 3X increase in app downloads across iOS and Android."
               – Marketing Manager, IR 500 Retailer
A 300% increase in app downloads across iOS and Android based on a 7-day period before and after implementation.
The retailer's banner successfully reached all mobile browsers across iOS and Android.
Successful implementation and immediate deployment without using valuable technical resources.
Gained visibility into app downloads by campaign, marketing channel, platform and device.
Contact us for more information or to setup and test URLgenius Cross-Platform Banners.