The decrease in broadcast television audiences has been written about at length in the last few years. Despite such dire predictions, however, TV is expected to garner 35.8% of all media spend in the United States this year which is just about on par with digital at 36.7%. By 2020, eMarketer predicts that broadcast television will still represent a respectable 32.9% of all media spend compared to digital's 44.9%.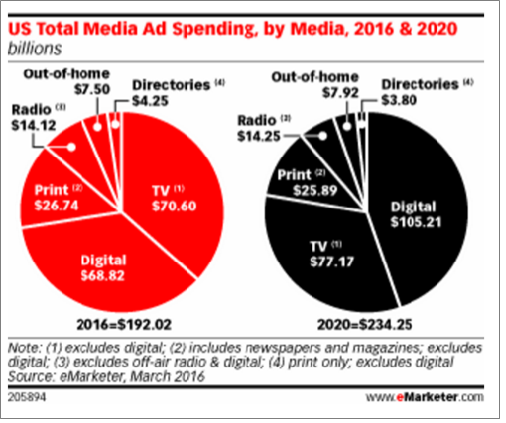 As TV continues to maintain a significant grip on overall ad dollars, digital budgets continue to shift to mobile. In 2016, eMarketer predicts that 63.4% of digital budgets will be allocated to mobile and by 2020, mobile spending will exceed desktop by $49 billion.
Meanwhile, leading brands and retailers are investing more in the cross-channel user experience and mobile apps that target a brand's most valuable customers – those that shop more and spend more. According to Internet Retailer, in 2015, sales via leading retail apps increased by 44%. Retail apps are advancing quickly and as consumers get more comfortable buying from smartphones. Retailers will be managing a complex web and app co-existence strategy for the foreseeable future.
As these trends unfold, there is a significant opportunity for television to play a key role in mobile app re-engagement and downloads. The challenge has been a call-to-action (CTA) that can effectively engage both website users and app users.
As consumers, we have all been conditioned by TV commercials to go to web URLs and increasingly we have our smartphone or iPad in hand when watching TV. Typically, however, a web URL cannot detect if the user has the advertiser's mobile app installed on their device. Using the URLgenius platform, a single Web URL can be created for TV that routes traffic to the mobile website, the mobile app and the app stores.
How it Works: The URLgenius Television CTA
Lets take Kohl's for example, which has an app for both iOS and Android. Kohl's replaced JCPenney as the retail sponsor at the Academy Awards this year. The clever, multi-channel campaign featured famous Oscar acceptance speeches voiced over people in everyday situations.
In this example, Kohl's could have aligned digital content with the campaign on both the Kohl's website and in the  mobile while creating a single web URL designed to engage desktop, mobile web and mobile app users. The URL could be designed to reflect the campaign. In this example it could be kohls.com/dreamingold which would redirect to dreamingold.kohls.com.
This single, multi-purpose URLgenius link could be used to route traffic to the Kohl's desktop site, the mobile website, the Android app and the Kohl's iOS App. URLgenius links use patent-pending app detection technology combined with the mobile app's URL schemes. The agency, or marketing team creates the routing rules associated with the link.
The settings in the link could also let the user decide between app and web. In this case, if the user chooses app when it's not installed, the link would lead them to the app store. Taking the idea a step further, the advertiser could even create a URL designed to tap into a specific a function of the device such as the camera for taking pictures that could be used in a social media campaign or contest.
Television Attribution with URLgenius
The slow decrease in television audiences makes attribution more important than ever. A CTA created with URLgenius enables the retailer to receive more accurate attribution information from those customers typing in the campaign's URL. The advertiser can also garner important insights about the audience that's watching the program such as what percentage of the viewing audience has the retailer's app installed on which platform and how that changes geographically.
As agencies and television networks strive to maintain TV's share of media spend, this is one important way to connect the dots between programming and today's app-centric consumer.