Industry research confirms that consumers are increasing the time they spend inside smartphone apps. Localytics recently reported the average time people spend in their apps is up by 21% year-over-year, with music, health and fitness, and social apps showing the largest increases.
Despite the uptick in app usage – specifically social apps – an astonishing number of mobile consumers fail to open the most popular social apps as a result of broken links. That is, a link that sends the consumer head-first into a login wall on the mobile web vs. deep inside the destination app where consumers expect to be taken. What has gone largely unreported is the number of missed opportunities for brands to engage with mobile consumers and the frustration that arises when those consumers are met with the mobile login page for an app they already have installed and open on their smartphone.
The message to marketers: To the extent you are not taking advantage of social deeplinks, you're hurting your conversion by at least two-thirds.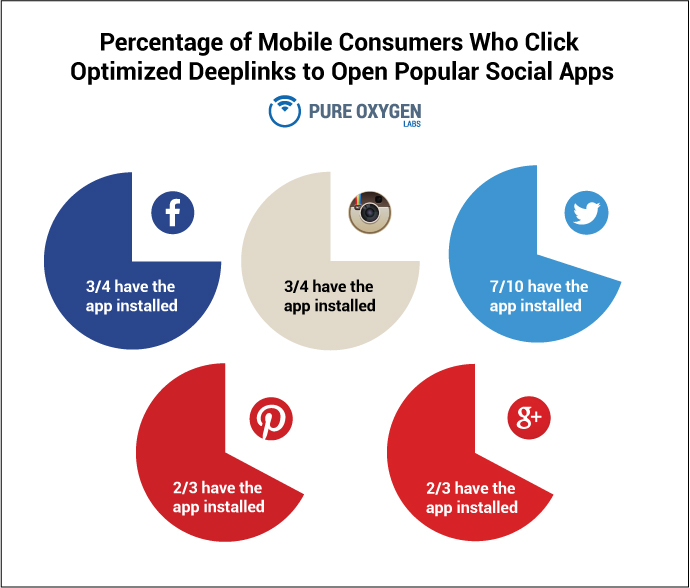 Key Findings:
The chart reflects key findings across a representative subset of U.S. retail sites for mobile consumers who click deeplinks and have the app installed on their smartphone. (NOTE: Instagram does not support deeplinks on Android.) The frequency with which some of the most popular social apps are present on a mobile device introduces a new challenge and opportunity for marketers wishing to drive engagement and conversion.
What makes an app open?
Today, an increasingly number of links sent around the web are social in nature. Intelligent deeplinks – those that can detect whether an app is installed on the mobile device and open it vs. sending the clicker to a frustrating mobile login screen – are quickly becoming a necessary means to drive activity on mobile social apps.
Mobile users who click social links overwhelmingly have that app installed (66% – 75% of the time) and — as most of us know from our own experience — expect an in-app experience, not a web login form.
The message to marketers: Ignoring the needs of app users significantly reduces your mobile social engagement (fans, likes, followers, sharing, etc.) and increases mobile consumer frustration.
For marketers, not providing a mobile-optimized link is both a new customer acquisition challenge as well as an engagement concern. The more a marketer understands the apps on their consumer's mobile devices, the smarter they can be when it comes to promotion, acquisition, conversion and engagement.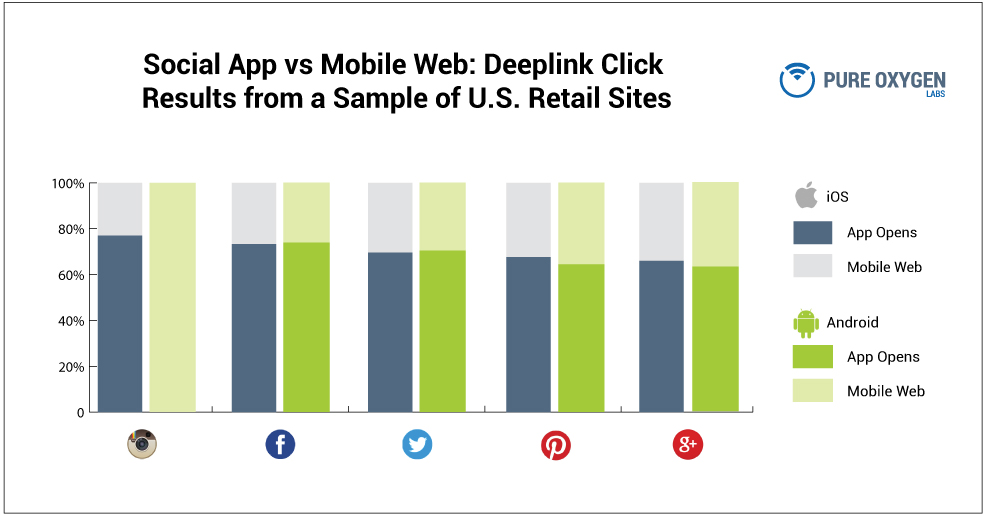 Aren't the Internet Giants Already Solving This Problem
Assuming the app is installed on the destination device, it is in the best interest of every social media brand to drive more consumers into their apps. After all, few people have the patience to fumble around on a tiny screen in order to re-login to the mobile version of a site. This fact leads many to question why top social networks have not done more to deploy deeplinking across their mobile presence.
Building an omnichannel experience capable of optimizing the experience for app-users – without degrading the experience for non-app users – is highly complex. It will take time to get right, especially for the networks that originated as desktop experiences.
If and when the major social apps seamlessly integrate open-in-app solutions to their link-to-app challenge, marketers still face an uphill battle when it comes to gaining a holistic view of their app open rates across all of their social media properties. While understanding how consumers interact with social apps is important, learning more about which apps are present can inform content strategy and promotions in order to drive better engagement and returns.
Go Deeper into Mobile SEO
Similar to how link building became a required method to drive organic search for desktop sites, deeplinks are the new fabric of the mobile web. No marketer wants to deliver a poor customers experience, let alone one that leaves a majority of customers in app oblivion.
Now that Google is indexing mobile app content, an SEO-optimized deeplink can actually help content rank higher and convert better in Google. For every initiative involving a company's social apps (as well as their proprietary apps, for that matter), marketers should ensure they are providing the fastest path into that app, across all platforms and devices. For some impatient mobile users, there is only get one chance to get it right.
Methodology
To evaluate mobile consumer behavior and understand their path to engagement across the top social media apps, Pure Oxygen Labs analyzed a quarter of a million recent deeplink visitors across a subset of top U.S. consumer retail brands using the company's URLgenius deeplink platform. The company's platform features active listening technology to help brands anonymously measure successful mobile app opens via deeplinks.
Summary
The real power of deeplinking has yet to unlocked for mobile marketers looking to improve app engagement across their social profiles or proprietary custom apps. Yet, the power of optimized, app-aware deeplinks can no longer be ignored when the majority of mobile consumers expect links to take them seamlessly into app as a matter of course.
Broken app links are one of the biggest mobile app problems that marketers know very little about. This research helps to not only quantify the problem, but also introduce a big opportunity for marketers who want to easily drive incremental engagement and deliver a friendlier and more meaningful mobile experience. To learn more about deeplinking or to spin up your own app-friendly social media links for free, visit URLgenius.