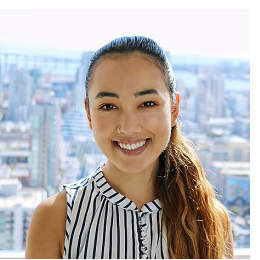 We sat down with Natasha Takahashi, Chief Marketing Officer & Co-Founder of School of Bots to talk about the upcoming policy changes to the Facebook Messenger platform in March 2020. We'll also learn how app deep linking with URLgenius is an important part of their strategy.
Thanks for chatting with us Natasha! Before we dive into the upcoming policy changes for Facebook Messenger, tell us about School of Bots and the services your company provides.

We started in this space in 2016 as a marketing agency that solely provided Chatbot implementation and consulting. One and a half years into our journey and with nearly 100 chatbots created, we started to notice the lack of up-to-date education in the chat marketing industry.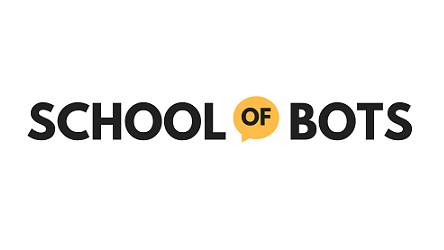 At the time, there were videos and blog articles on how to "build" a Chatbot, but no one was sharing how to add value to businesses, generate revenue, and cut costs with bots.
We decided to launch School of Bots as the trusted Chatbot resource for marketers and entrepreneurs. Everything that we teach comes from direct experience working with brands that spend $200,000+ a month on Facebook advertising and generate more than $10 million in annual revenue, including Mindvalley, Matthew Hussey, Social Media Examiner, and Marisa Peer.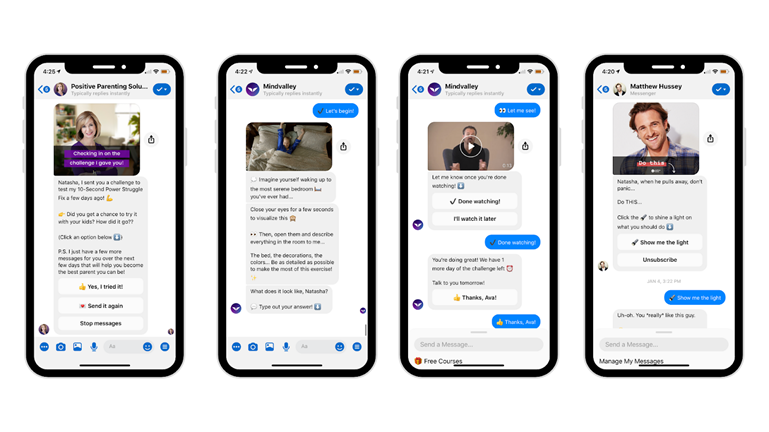 You can work with us in 3 ways: Joining our virtual education program that consists of 200+ training sessions, processes, and more on exactly how we implement and sell chatbots; Hiring our team to implement a chat system; Or hiring our team to consult and directly train your team to do what we do.
What trends are you seeing with chatbots in terms of use cases and success stories?
A chatbot experience that generates revenue, saves your company time and money, and delights users doesn't have to be crazy complicated.
As of early 2020, the main trends I'm seeing are: 1) letting users 'choose their own adventure' which means quizzes within chatbots are very popular and perform incredibly well; 2) extreme personalization, from images with a user's name in them, to customizing the marketing/sales journey based on the user's interests.
As for use cases, it differs by industry. For example, lead generation heavy industries like real estate, insurance, local business storefronts, and finance are very focused on lead generation with chatbots and not much else. On the other hand, e-commerce storefronts are focused on giveaways, special deal campaigns, delivery notifications, abandoned cart campaigns, and style quizzes.
What are some of the most common mistakes that brands make when implementing a bot strategy?
Something I've noticed most companies fail to do is understand how to implement a chatbot holistically into their business. Rather than focus on ONE amazing thing a chatbot can do, it's important to know how to take full advantage of a chat system.
To craft a long-term vision for a company's chat system, we use "The MSO Framework." This is a simple, proprietary framework that we use to plan out what we want a chat system to accomplish over several phases.
MSO stands for marketing, sales, and operations. In our experience, any use case a company wants to implement in a chatbot can almost always fall under one of these 3 categories.
When we start a new chat project, we draw out 3 columns and determine how we're going to involve MSO in Month 1, Month 2, and so on in the project. Perhaps in Month 1 of a project, we focus on a simple educational campaign for marketing, a low-ticket product sale for sales, and common FAQ responses for operations.
In Month 2, we could then move on to running paid traffic to the existing campaign and build a few new campaigns for marketing; add appointment-booking and multi-day sales follow-ups to sales; and more automatic response automation and repetitive task automation for operations.
Any other advice for a company that is about to embark on a project to implement a bot or for customer service or sales?
Absolutely! Even if you have no idea how you want to use a chatbot yet at your company, you can complete these simple action steps to get started:
Connect your Facebook Page to ManyChat to immediately start capturing anyone who messages your Page on your list (even if you're not sure what you want to use a Chatbot for yet). It captures everyone who comments as a subscriber (after they engage with your first message to them after they comment.)
Take your most popular or a proven piece of content and turn it into an interactive Chatbot experience. This could be a mini video course, a challenge, lead magnet, blog article, or even a long email. Provide value to people when they first talk to your Chatbot by offering this experience.
Start crafting your strategy using the "The MSO Framework" mentioned in the previous question which stands for marketing, sales, and operations.
How does URLgenius align with your strategies for implementing bots and what pain point does a URLgenius link solve?
URLgenius has truly been a godsend for our marketing and customer processes. Our team aims to provide the best experiences possible for our leads and customers, but one area that we've always struggled in is links.
We heavily use links to Facebook Groups, Facebook Group events, proprietary brand apps, calendar events, and Podcasts (to name just a few) that don't provide a great experience on their own when clicked from certain places online.
For example, when someone clicks on a Facebook Group event link in the Facebook Messenger app, it takes them to a web page that says "this link is broken or doesn't exist" which is a really terrible experience.
URLgenius deep linking has enabled us to seamlessly send people to the right place in the app when they click on our links, and it's been a huge relief for our team and great experience for our customers and leads.
What will be the biggest policy change to the Facebook Messenger platform beginning March 4, 2020?
The biggest change to Messenger's policies is related to when you can message users and what you can include in those messages. Here is a summary of how the new policies will work:
The Initial Opt-in (how a user first gets on your chatbot list)
There are over 8 ways a user can opt in to your chatbot list, including a Facebook Page post comment, a button on your website, a specific https://m.me link, and by messaging your Page.
As soon as a user opts in, you should provide value and ideally capture their details for another communication channel that you own, like SMS or email. Remember, you don't own your Messenger list like you do your text or email list, but that doesn't mean it can't be one of the most powerful tools you use in your business.
Once this first conversation ends and the user leaves the chat to go on with their day, a 24-hour countdown timer begins.
The Standard Messaging Window (24-hour window since last user engagement)
Over the next 24 hours, you can message this specific user as many times as you want about nearly anything, as long as it complies with Facebook's community policies.
If the user engages with your message (which means they type back to your Page, or click a button or quick reply), the 24-hour countdown timer restarts. During this 24-hour window, your user is in the "standard messaging window" (as defined by Facebook).
After the Standard Messaging 24-Hour Window
If the user doesn't respond within 24 hours and the timer runs out, you now have a few free and paid options to message your list.
Free Options After 24-Hour Window
There are 4 specific use cases that Facebook Messenger has defined for which you can message users any time outside the standard messaging window. These are 1) a confirmed event update, 2) a post-purchase update, 3) an account update, 4) a human live chat response.
In February 2020, Facebook Messenger announced the "One-time Notification". This allows a Facebook Page to send one follow-up message after the 24-hour standard messaging window, with the user's permission. (See the image for the 3-step process of how this works.)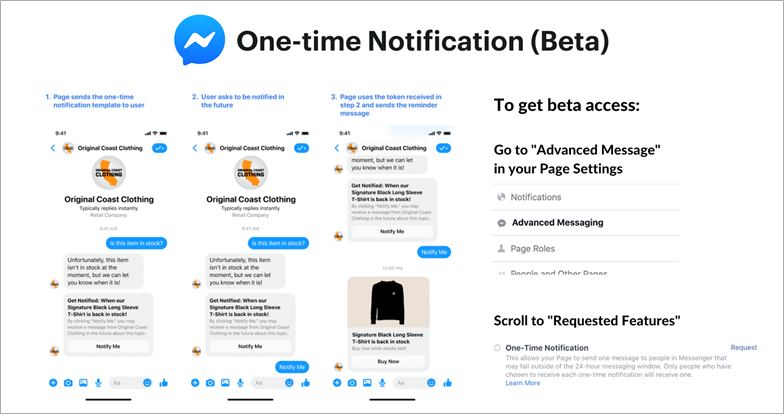 The Page asks the user if they want to receive a future notification (for example, when an item is back in stock).
Once the user confirms, the Page will have permission to send a single message to the user outside of the 24-hour standard messaging window.
You only have permission to message ONCE, and this will expire within one year. However, keep in mind that as soon as the user engages with this follow-up message, the 24-hour standard messaging window restarts.
With this new One-Time Notification API, you're able to send a message about theoretically anything (it must comply with Facebook's community standards), as long as you stay true to what you tell the user you will be messaging them about in the future.
For example, if you offer the user a future message about an item coming back in stock, then make the message about a huge sale you're running, you're breaking the rules.
Facebook's explicit rules around this new API are to not confuse, deceive, defraud, mislead, spam, or surprise anyone. You also can't promise money, or the equivalent to sign up for a future message.
Paid Options After 24-Hour Window:
If you prefer to send a message with a sales-related call-to-action to your users without using any of the free options, you can do this with a Sponsored Message.
A sponsored message can be sent to anyone who has messaged your Page in the last 365 days, and costs 3 cents per message delivered (in the U.S. and cost varies per the user's country.
Given these changes, how should a bot strategy align with SMS and email strategies and how do URLgenius deep links play a role in those strategies?
SMS and email can be used as both "initial opt-in"s and re-engagement channels. In the diagram below, you can see how we map out the Messenger Ecosystem at School of Bots and understand the involvement of other platforms like SMS and email within it.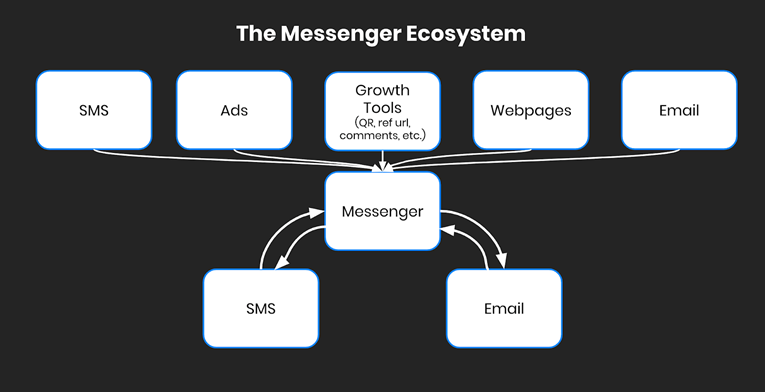 Within a text conversation or email, you can send a user to Messenger to opt in or to re-engage in place of the free and paid Messenger re-engagement options shared above.
URLgenius app deep linking to Messenger plays a crucial role here in sending the user from a text or email directly to the chatbot conversation in their Facebook Messenger app. Without a URLgenius deep link, the user is sent to a Facebook web page with no clear next steps on how to access the information you promised them, which results in a bad experience.
Thank you Natasha for the great information!
No problem! Hopefully this gives your readers more clarity on how Messenger policies will work in 2020 and the confidence to implement or improve a bot experience!