Here at Pure Oxygen Labs, we've been working hard to create the only deep linking platform designed specifically for marketers. We started out with a focus on social apps and now thousands of marketers are using URLgenius to increase social engagement on mobile devices across social networks.
Now we have extended this concept more fully to retail apps. Over the past year, about half of the Internet Retailer 500 have added URL schemes to their apps for iOS and Android. These URL schemes enable marketers to open apps from web browsers and other mobile applications. We've added many of these apps and URL schemes to the URLgenius platform so marketers and can easily create omnichannel links that can detect and open their mobile app.
Using such links can help marketers increase mobile app engagement and downloads. This is especially helpful for gathering insights leading up to the holiday season to more effectively compete with the Amazon shopping app.
On the URLgenius home page, you will notice the first tab is now called "Shopping". You can create a deep link to any of the retailers listed. Similar to social deep links, when creating a link to a retail app, the URL schemes of that app are used by URLgenius to create the link.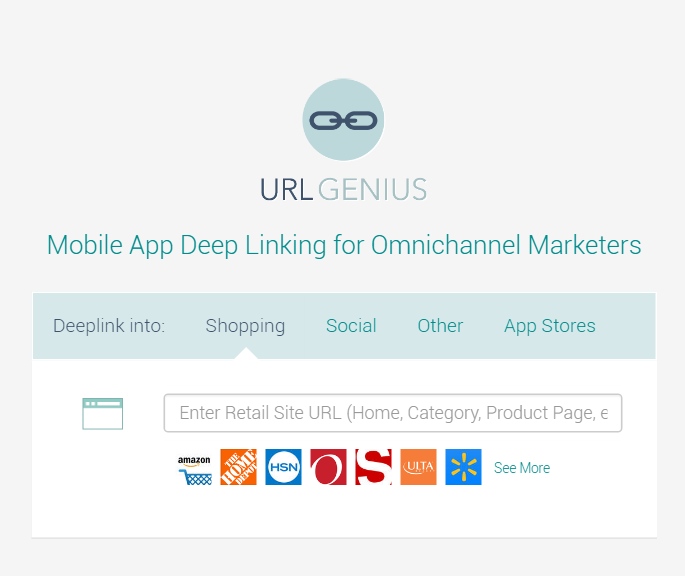 Step-by-Step: Deep Linking to Retail Apps
Sign-up to URLgenius
Select and copy a link from the retail site (e.g. home category or product page)
Paste that link in the field provided
Optional: customize the path for your URLgenius link in the field provided
Select "Compose" and at that point a URLgenius will be generated.
Click "Copy" and then paste your URLgenius link for use in any marketing channel including display, paid search, email, social and affiliate.
Append tracking parameters to your URLgenius links for web analytics (Google Analytics, Omniture) or channel analytics (email, paid search etc). Contact us with questions.
URLgenius links will click through on desktop devices while making it easy to manage the routing of traffic to your mobile website and mobile apps for iOS and Android – all from the same link! Edit your URLgenius links at any time to change or to enable\disable routing to your apps.
Is your app missing from our list? Add your app to the URLgenius platform – there's no fee! Just let us know the URL schemes for the app. Contact us at: info@urlgeni.us