While most retailers still used dedicated mobile sites to power their mobile shopping in 2014, a significant shift is underway as retailers migrate towards responsive design and dynamically served mobile sites.
Based on mobile SEO audits Pure Oxygen Labs conducted across the top 500 retailers as listed in Internet Retailer's 2014 Mobile 500 guide, here is how each of the three mobile web types that Google supports compared in popularity among retailers:
59% used dedicated mdot sites – down (significantly) from 2013
15% used dynamic serving – up slightly from 2013
9% used responsive design – up (significantly) from 2013
14% (shockingly) had no mobile web presence at the time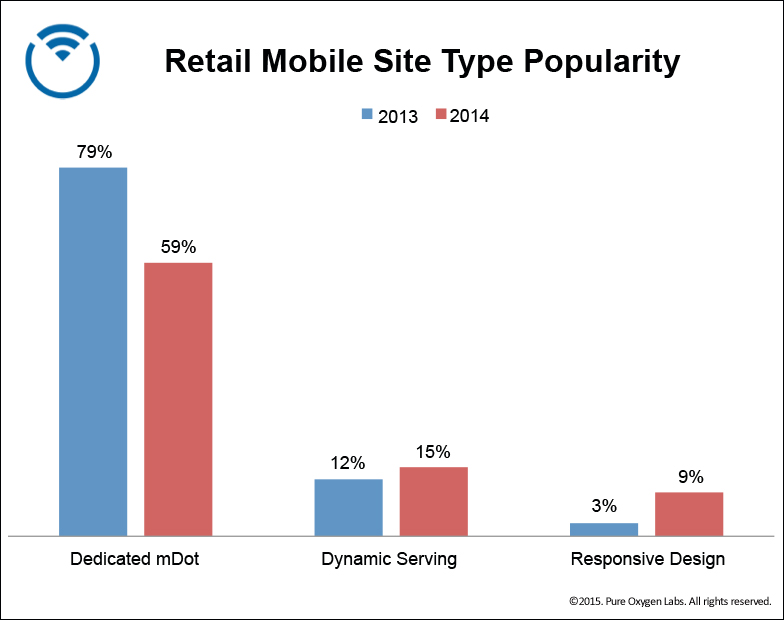 Interpretations and Predictions
Clearly dedicated mdot sites are falling out of favor as retailers look to more efficient and scalable methods of optimizing the shopping experience for more devices and with less effort. The fact that maintaining separate mobile URLs requires more effort to stay inline with Google's mobile SEO policies is at least a motivating factor for some. More to the point, the perception has clearly taken hold that single-URL methods like responsive design and dynamic serving ultimately promise higher mobile SEO visibility (even if that is not the case). We expect mdot sites to fall to about 45-50% penetration among retailers in 2015.
Interestingly, brands are moving towards responsive design, but it remains the least-used type. This comes as a surprise to some who want to believe responsive design has already reached critical mass. That's not to say it won't but it certainly hasn't yet, and it likely will not among retailers until solutions exist for its Achilles' heel: page speed. Retailers are right to be cautious about embracing responsive given the impact page speed has on online conversion and search rankings. All that said, we expect responsive to surpass 15% retail adoption in 2015.
Dynamic serving saw a modest bump in popularity and is used more by retailers than responsive design. That too comes as a surprise, since dynamic serving garners nowhere near the same mindshare or buzz responsive design does. Yet this type will continue to increase in popularity among retailers, probably surpassing 20% in 2015. Why? It presents retailers with the "Goldilocks" solution: mdot pages are speedy, but use separate URLs and are harder to optimize; Responsive pages are integrated for easier maintenance and SEO, but slow and overweight for mobile users; Dynamically served pages are the "just right" solution – combining the best of both for a single-URL, device-optimized layout and fast-loading pages that are easy to maintain and good for mobile SEO.
Getting Technical
Given this expectation that responsive and dynamic serving will continue to increase in retail popularity, a few technical points on how to identify and talk about both types:
Because dynamic serving occurs – by nature – on the server, it's all too easy for researchers to classify these sites as responsive design. After all, the page being studied will have the appearance of responsiveness – same URL across devices, with layout that appears to adapt between desktop and smartphones browsers. The page may even contain media queries in the HTML. Simple, right? Not so fast! To definitively say a page uses responsive, you have to know the content served to desktop devices and smartphones is the same. Otherwise, it is likely a dynamically served page. That's one of the reasons we make mobile SEO auditing technology – to help marketers see this distinction. The approach we recommend is to compare the page size and weight simultaneously using both desktop and smartphone user agents. If there's no significant difference then it can be classified as responsive. But if there is a significant difference in page size, it is technically a dynamically served page.
This is an important distinction as retailers increasingly turn to "adaptive" techniques to serve content with images, scripts, and stylesheets that are optimized (different) across device classes. While these pages have all the external appearance and handling of a responsive page, it would be easy (but wrong) to classify them as responsive design. Since the desktop and smartphone content are different, the pages will ultimately be treated by search engines as dynamically served content, and will need to follow mobile SEO policies outlined for such.
A Dynamic Future
Responsive design may dominate today's headlines, but among retailers dynamic serving is more popular. Expect to see that trend continue. Dedicated mobile sites were the industry's first-generation mobile solution; responsive design represents the industry's second generation. But like its predecessor, responsive has technical shortcomings of its own that quietly push retailers towards dynamically served solutions. And if done right, both approaches can also enable retailers to position themselves for maximum mobile SEO visibility with less effort than dedicated mobile sites.